By:
Damian Carrington
Via
http://www.theguardian.com/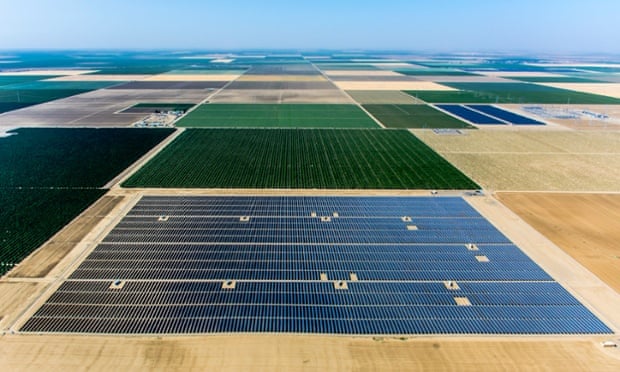 Westlands solar park in Fresno County in the Central Valley of California. US investment in clean energy rose 8% to $52bn in 2014 behind China, where investment rose 32% to $90bn. Photograph: Proehl Studios/Proehl Studios/Corbis
Global investment in
clean energy
jumped 16% in 2014, boosted by fast-growing solar power in the US and China. Solar, whose costs have plummeted in recent years, attracted over half the total funding for the first time.
The green energy market has been gloomy in recent years and the rise in investment is the first since 2011. But despite strong growth in most regions, only a series of large offshore wind farms stopped Europe going into reverse, while the Australian government's antipathy to renewables saw investment there tumble by 35%.
The
new figures, from Bloomberg New Energy Finance
(BNEF), show $310bn (£205bn) was ploughed into green energy last year, just short of the record $317bn in 2011. However, as green energy gets ever cheaper, the money invested in 2014 bought almost double the clean electricity capacity than in 2011.
"The investment bounce back in 2014 exceeded our expectations," said Michael Liebreich, chairman of BNEF's advisory board. "Solar was the biggest single contributor, thanks to the huge improvements in its cost-competitiveness over the last five years."