Numerous Car Companies Jumping Into Hydrogen Cars

Honda is just one of several car companies that have recently come forward with hydrogen fueled vehicles. Toyota, Audi, Volkswagen, Chevrolet Equinox Fuel Cell, Hyundai ix35 Fuel Cell , Mercedes-Benz B-Class F-Cell. and more have also jumped in.

One of the problems that the hydrogen fueled cars are going to encounter is the ability to fuel these vehicles. NOW! HYDROGEN has come up with a very economic and easy solution to this problem.

The conversion process of splitting water to produce hydrogen has been costly due to the process of having to scrub or separate the two gases. Like with any emerging technologies once there is public interest, enhancements and ways to reduce cost begin coming forward. NOW! HYDROGEN is one of those companies. NOW! HYDROGEN has developed a electrolysis stack that then mechanically separates the two gases (hydrogen and oxygen) without using expensive scrubbing technologies greatly reducing the cost of producing hydrogen.The one market they see as being viable is solar combined with electrolysis generating hydrogen fueling stations. It is absolutely intriguing that one can generate a clean burning fuel right at the location needed from nothing but solar electricity and water. NOW! HYDROGEN's design concept does incorporate grid tied power to insure reliability and production. NOW! HYDROGEN has figured out how to do this with their low cost hydrogen producing technology.
WHERE WILL THEY DEPLOY FUEL STATIONS
The problem of hydrogen fueling stations is one that the electric car industry faced and overcame very quickly. It is only a matter of deployment and can be done quickly as was proven with electric car fueling locations. NOW! HYDROGEN believes they are strategically positioned in a emerging market to meet the demands for hydrogen at a cost competitive rate. Locations are numerous as the NOW! HYDROGEN technology produces hydrogen on demand thus reducing the need for large storage requirements!
Honda FCV
Audi Hydrogen Car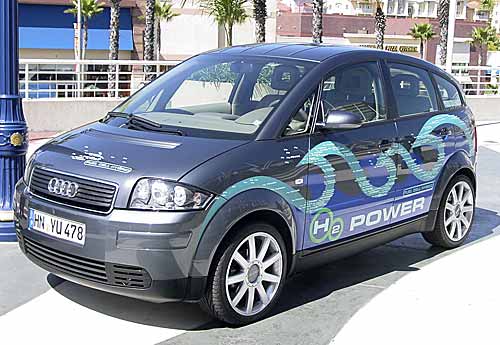 Volkswagen Hydrogen
Toyota Hydrogen
Mercedes-Benz B-Class F-Cell
Hyundai ix35 Fuel Cell
Chevrolet Equinox Fuel Cell
As you can see there are many car companies jumping into the
hydrogen
market as it is a green clean burning fuel!